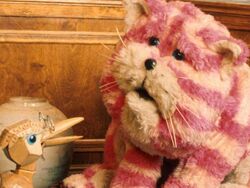 Bagpuss is a 1974 UK children's BBC television series, made by Peter Firmin and Oliver Postgate through their company Smallfilms. The title character is "an old, saggy cloth cat, baggy, and a bit loose at the seams".
Although only 13 episodes of the show were made, it remains fondly remembered, and has often been repeated in the UK.
External Links
Ad blocker interference detected!
Wikia is a free-to-use site that makes money from advertising. We have a modified experience for viewers using ad blockers

Wikia is not accessible if you've made further modifications. Remove the custom ad blocker rule(s) and the page will load as expected.