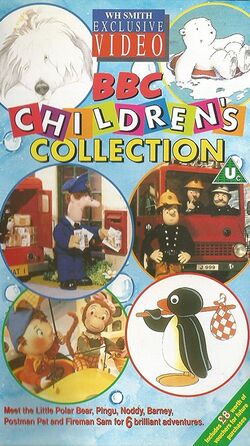 BBC Children's Collection is piece of CBBC merchandise which is a VHS compilation video containing various children's shows from the BBC/ CBBC television series. This video was released at an unknown date in the 1990's and was sold exclusively from WH Smith.
Here they are!
6 of your very favourite BBC TV characters, all on one video in 6 great adventures available only from WH Smith..
Episodes
The little Polar Bar: Ice floe
The ice has melted and Lars, the little polar Bear, has been separated from his Daddy and Mummy. Soon he finds himself on a tropical island in the warm south..
Pingu and his friends are having lots of fun playing ice ice hockey, until things get rather too rough..
Noddy and the pouring rain
It's raining in Toyland and Noddy's passengers are getting wet. Then Big-Ears has a clever idea - Noddy should drive whilst holding his umbrella..
When Barney sees the advertisment for a good looking dog to take part in a new TV show, he immediately buys a ticket to glitter city. Could this be fame at last?
Postman Pat - Pat's thirsty day
Phew! It's a hot day in Greendale and water has been cut off in the village. Can Granny Dryden's pump provide the solution?
It's Halloween and there's a terrible storm raging over Pontypandy but nothing can stop the preparation for the fire station's annual part..
Trivia
Ad blocker interference detected!
Wikia is a free-to-use site that makes money from advertising. We have a modified experience for viewers using ad blockers

Wikia is not accessible if you've made further modifications. Remove the custom ad blocker rule(s) and the page will load as expected.