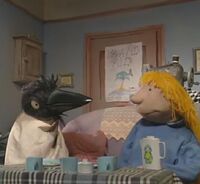 Mortimer and Arabel were puppets based on the novels by Joan Aiken which aired on CBBC in 1993-1994 it rivaled CITV's Spooks of Bottle Bay puppet show which was broadcast in the same year.
The show was broadcast on CBBC in the early 90s and was later repeated on BBC CHOICE but hasn't been show since then. The BBC released the first series on VHS in the early 90s but nothing else has been released since then.
External Links
Ad blocker interference detected!
Wikia is a free-to-use site that makes money from advertising. We have a modified experience for viewers using ad blockers

Wikia is not accessible if you've made further modifications. Remove the custom ad blocker rule(s) and the page will load as expected.