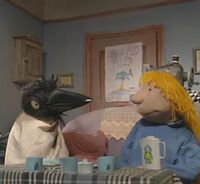 Mortimer and Arabel (Also know as "Arabel and Mortimer") were puppets based on the novels by Joan Aiken which aired on CBBC in 1993-1994 it rivaled CITV's Spooks of Bottle Bay puppet show which was broadcast in the same year.
The show was broadcast on CBBC in the early 90s and was later repeated on BBC CHOICE but hasn't been show since then. The BBC released the first series on VHS in the early 90s but nothing else has been released since then.
Summary
The stories are about a little girl named Arabel Jones who adopts a mischief making raven named Mortimer whose only communication is to squawk "Nevermore" when upset.
The Jones family live in Rumbury Town, London NW3 and-a-half where most of their neighbours, especially grumpy old Mr Leggit, can't stand Mortimer for all the chaos he causes, and it is always up to Arabel to keep Mortimer out of trouble, although he frequently causes chaotic upsets with his mischievous behaviour.
Characters
Arabel Jones - Main character.
Mortimer the raven - Main character.
Mr. Jones. - Arabel's father.
Mrs. Jones - Arabel's mother.
Mr Leggit - The Town's Chief inspector
PC Barnoff
The Mayor
Chris Cross
Episodes
Full list of episodes: Full list of Mortimer and Arabel episodes.
Series 1: Mortimer's Pocket has twelve episodes in which Mortimer and Arabel track down some crooks who are causing mayhem before the Rumbury Town Garden Gala - for which of course Mortimer unfairly gets the blame.
Series 2: Mortimer's Mine also twelve episodes tells the story of an immense hole which appears under Rumbury Town, right in front of the Jones' house, which Mortimer decides to fill up with everything he can get his claws on...meanwhile an American millionaire is in town also trying to get his hands on everything he can, and the two are soon in competition. Everything comes to a dramatic finish at the Town Music Festival.
Series 3: Mayday in Rumbury, six episodes has the Town's beleaguered Mayor trying to stage a Mayday Ceremony in which the entire Jones family ( including Mortimer and a newly acquired herd of cows) is due to take part. And the Jones' wicked cousin Perce is also back in town and making mischief.
Series 4: Mortimer and the Bank Ghost is a spooky Christmas story where Arabel and Mortimer befriend a ghost at the Tower of London and try and help him and his pet raven solve a Christmas mystery.
External Links