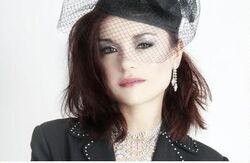 Anne Foy (born 23 January 1986 in Langold, Worksop) is a children's television presenter for the BBC.
Until March 2008, she worked for the CBBC Channel and on CBBC. She can currently be heard as the voiceover on the music channel 4Music and is also working for Current TV. She is probably best known for being one of the main presenters of Stitch Up! and for appearing in Bad Penny.
External Links
Ad blocker interference detected!
Wikia is a free-to-use site that makes money from advertising. We have a modified experience for viewers using ad blockers

Wikia is not accessible if you've made further modifications. Remove the custom ad blocker rule(s) and the page will load as expected.