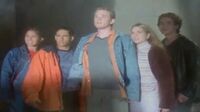 Animorphs is a 26-episode television adaptation made by Nickelodeon of the Scholastic book series of the same name. The series was broadcast from September 1998 to March 2000 in the United States and Canada.
The episodes lasted about 30 minutes (including commercials).The show aired on CBBC in the UK.
Plot
The series chronicles the battles of five human teenagers and one alien youth as they fight a guerrilla war against a secret alien infiltration of Earth.
Ad blocker interference detected!
Wikia is a free-to-use site that makes money from advertising. We have a modified experience for viewers using ad blockers

Wikia is not accessible if you've made further modifications. Remove the custom ad blocker rule(s) and the page will load as expected.