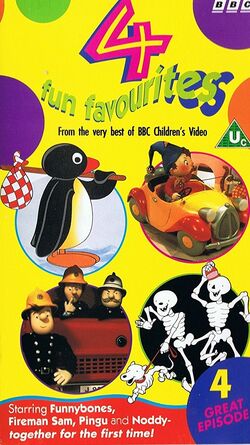 "They're together at last! Funnybones, Fireman Sam, Pingu and Noddy - united on this special video in four great episodes from their BBC Tv programmes..."
―From the backcover

4 Fun Favourites (full title: "4 fun favourites from the very best of BBC Children's videos.") is a piece of CBBC merchandise, which was a VHS collection of episodes from popular CBBC television shows.
Content
Janet and Allan Ahlberg and Andre Amstutz's boney crew little Skeleton, Big Skeleton and Dog - are here! Fresh from their skully new television series Funnybones in an episode called Dinosaurs.
Great fires of London! Everyone's favourite hero next door, Fireman Sam, is as busy as ever in "Dilys's Forgetful Day coping with the everyday problems of the fire service in Pontypandy.
Not to mention that lovable little Penguin Pingu, up to his old tricks again with his friends the seal in "Pingue plays fish tennis.
Or Noddy - about to become a tv superstar - and his friends Big ears, Martha Monkey, Mrs Tubby and the rest of the gang in Noddy and the pouring rain.
All in all, an irresistible blend - available only from WH Smith - of the best children's entertainment from BBC video.
Running time: 33 mins approx.
Ad blocker interference detected!
Wikia is a free-to-use site that makes money from advertising. We have a modified experience for viewers using ad blockers

Wikia is not accessible if you've made further modifications. Remove the custom ad blocker rule(s) and the page will load as expected.